Info Center
Montag Brochures
Press Releases
Press Releases
Under construction.
The Agronomy Corner
The Agronomy Corner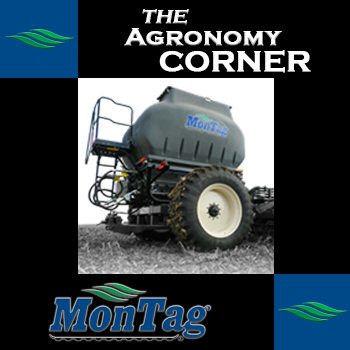 In an effort to assist farmers in understanding the latest information regarding crop production, Montag Manufacturing will discuss one or more of these issues in each article. It is our intention to discuss several issues including crop nutrients, the reasons that crop nutrients and their placement are so important in efficient crop production, as well as other topics such as cover crop uses in crop production. We will call these discussions "The Agronomy Corner".
In each issue of "The Agronomy Corner" we will try to use everyday language to explain what has been widely published in scholarly papers and research reports from many US Colleges and Universities as well as from the US Government.
It will be important to remember during our nutrient discussions that the amount of crop nutrients needed to produce the major row crops varies widely depending on your soil types, soil nutrient levels, climate and which crop you are growing. For example, a high level of soil organic matter can produce much of the nutrients needed for crop production provided the climate and weather will sufficiently break the organic matter down.
Thus, it will not be our purpose to replace your agronomist or provide specific nutrient amount recommendations for your fields. Instead, we will concentrate on what these crop nutrients actually do for your crops so that you can understand how they can help you be a more efficient producer.
All of the information featured in "The Agronomy Corner" will be from other sources and we will provide links to those sources so that you can read the information in its unfiltered state.
We hope "The Agronomy Corner" will become a useful source of information for you. Please let us know if you would like to see a specific crop production issue discussed.